The ATV is Common vehicle in Crash of Cars.
Existed just for fun, this vehicle is rather meh in general stats. All the fun you can have on sand would become the nightmare here. It can't survive or escape easily, but it's drifty feature may get some good use......
The ATV has quite average general stats. It had only an average speed and has unresponsive handling, which tends to cause it to fishtail on turns unless handbrakes are used. Dodging becomes increasingly difficult because it's in general unresponsive to anything.
However, ATV is perhaps one of the smallest common vehicles and is best suited for passive gameplay, because it's easier to drive in general than some faster vehicles such as Classic Racer.
The word "ATV" stands for All-Terrain Vehicle, which is also commonly referred to a quad bike.
Its handling could be a reference to the fact that once reaching high velocities, real-life ATV's would be harder to control due to being a 4-wheeled vehicle and the fact that its turn mechanism has lower efficiency when compared to regular cars as its designed like a motorbike.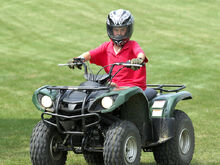 Community content is available under
CC-BY-SA
unless otherwise noted.