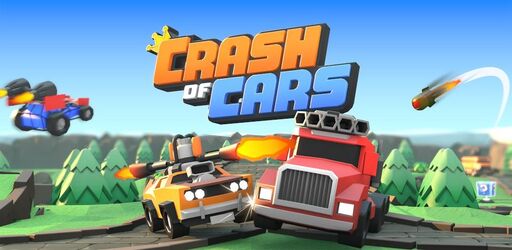 Welcome to Crash of Cars wiki
This is the Fandom wiki for the fun, innovative and popular free-for-all vehicular combat game known as Crash of Cars™ The game currently has over 10 million downloads, and was published by NotDoppler. The game was released on March 23, 2017.
Wiki Social Streams
Come and join us at https://discord.gg/5Xa2GHq. You can also follow us @CrashOfCarsGame on Twitter or join us at /r/CrashOfCarsgame on Reddit.
Wiki improvements!
We need your help to make this wiki better!
Many articles are currently stubs and we need your contributions (page editing, fixing, creating) for several aspects of the game of the game, not limited to but including;
Weapons
Maps
Prestige and Rewards
For a list of stubs you can work on, see the stub list
Brief policy overview
In this wiki, we are using our own scaling system to indicate vehicle statistics. If you want to add the page about new car, play the car first, compare it with some other cars, then add stats after your evaluation. This ensures the quality of the content when compared to different expectations.
Unlike other wikis, this wiki does not requires formal content for pages concerning in-game vehicles. You can insert some captions on for some of the cars' pictures. for example, take a look at this page -> Vampire.

However, users must follow the standard format in creating future articles. For more info, see here. We won't prevent you from creating an article that doesn't comply with this, however we expect to see you format your page as soon as you can.

Please read and understand the rules page. This is a brief summary only and where the full rules page conflicts with this summary, the full rules page will override this summary to the extent of the conflict.